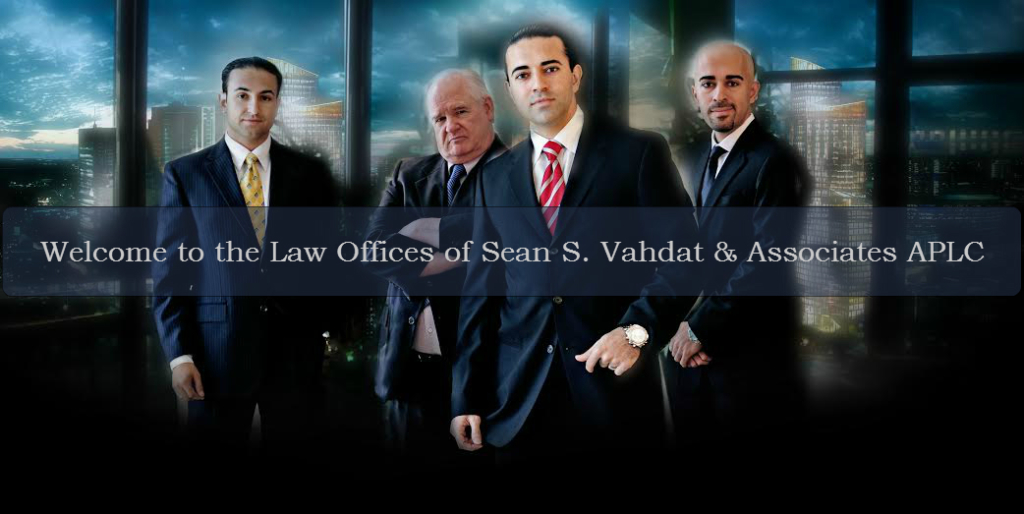 Give us a call today: (877) 698-2545
WHO WE ARE
We are the Law Offices of Sean S. Vahdat and Associates Lawyer in Irvine APLC. We are a Full Service Law Firm that serves the city of Irvine and the surrounding areas of California as well.
WHAT WE DO
We seek to provide the highest level of legal representation available to our clients. And get them what they deserve. We have collected millions of dollars for our clients!
WHERE WE WORK
We are located at 7700 Irvine Center Drive #800 in the City of Irvine, California. We have satellite offices throughout California, to better serve you. Give us a call today!
HAVE QUESTIONS ABOUT A LEGAL ISSUE? ASK OUR EXPERTS.
 HANDLING LEGAL CHALLENGES WITH WORLD CLASS RESPONSE.
My wife and I are very thankful to Attorney Sean Vahdat for helping us to navigate through a difficult process. His knowledge of this process and ability to explain and simplify was always very helpful and helped control stress levels. I would recommend him with my highest regard."
LET US FIGHT FOR YOU
We work as a single united team with years of legal expertise and give our clients the highest quality representation possible.
Lawyer In Irvine CA
The Law Offices of Sean S. Vahdat & Associates APLC offers a full range of legal services. The Law Offices of Sean S. Vahdat who is Lawyer in Irvine & Associates is an Orange County, California, law firm that offers representation for legal needs throughout Southern California. Our main office is located in Irvine, California and we have satellite offices available throughout Southern California. We have over a decade of experience and can help you get a settlement that you deserve.
Irvine Bankruptcy Lawyer
One area of law that we specialize in is Bankruptcy Law. We have helped people throughout Irvine, Orange County, and Southern California get debt relief and we are here for you. For more about our Bankruptcy legal representation click here.
Irvine Lawyer
Whether we are assisting an individual who has been injured in a motor vehicle accident or we are providing people with the relief they need from the burden of debt, we always provide people with the best legal representation available.
Contact us today we are provide the Best Lawyer in Irvine to learn more about our Orange County Law Firm. We serve clients throughout Southern California, including Irvine, Newport Beach, Costa Mesa, Huntington Beach, Anaheim Hills, Anaheim, Los Angeles.
Recent Cases:
Auto Accident
After being involved in an auto accident Mr. Kevin C. contacted the Law Offices of Sean S. Vahdat & Associates Lawyer in Irvine APLC. He was confused, scared, and did not know what to do. He did not have medical insurance and could not afford to seek medical treatment. His car was immediately repaired, he was provided with a rental car during his repairs, he treated for his injuries on a lien basis, (He did not pay for any medical treatment until the insurance company paid). The Law Offices of Sean S. Vahdat & Associates who is Best Lawyer in Irvine APLC got him $175,000.00 without even filing a lawsuit.
Motorcycle Accident
Mr. Michael Green was involved in a motor cycle accident when a truck T-boned him. The insurance company gave him the run around and told him that he was at fault, and that they would only pay him $1,000.00. Mr. Green felt that he was being mistreated and hired the Southern California Auto Accident Attorneys. The insurance company immediately accepted liability, paid to repair his bike, and they paid all of his medical bills, and compensated him for his pain and suffering. The insurance company tendered their full policy limits of $50,000.00.
Slip & Fall
Ms. Maria Gonzalez, was shopping at Target when she slipped and fell on a puddle of gatorade, she had some back and neck pain but no health insurance. After contacting the Law Offices of Sean S. Vahdat & Associates who is Best Lawyer in Irvine APLC, Ms. Gonzalez was referred to Doctors who took Ex-Rays, and gave her treatment all on a lien basis. She did not pay for any of her medical bills until the Law Offices of Sean S. Vahdat & Associates APLC obtained a settlement from Target and paid for her medical expenses, paid for her loss of earnings, and her pain and suffering.
Premises Liability
Ms. Fey Seikovich, was taking a walk on a city side walk when she slipped and fell by stepping on a pine cone. She broke her am and suffered back and neck pain. She missed two months from work, and had accumulated thousands of dollars in medical expenses. She hired the Law Offices of Sean S. Vahdat & Associates APLC, and we got her medical expenses, and loss wages paid back, and she was given compensation for her pain and suffering.
Names have been changed for privacy purposes.